SOLDThese beautiful docile sheep have sparked so much worldwide interest and we are happy to have 1 Valais Blacknose Sheep Male called Bertie. He was born 6th November and is a friendly intact boy getting ready for breeding. He has a Grassroots pedigree and has great wool quality. We should have more Lambs available later in the year.
Price: £2000 (Contact us for more details) Buy Now
PLEASE NOTE: We will update our stock shortly. If you wish to be kept updated, please contact us.
The picture of sheep quietly grazing on green grass somewhere near the mountainsides seems to be one of the most therapeutic and soothing view ever. If these animals are characteristic black-andwhite Valais Blacknose Sheep, the picture cannot be more beautiful.
The origins of Valais Blacknose Sheep are dated back to the beginning of the 15th century, although they weren't officially recognised as a separate breed until 1962. They were originally raised in southwestern part of Switzerland, in a region called Valais. This area is known for its magnificent landscapes and impressive mountains, such as worldwide famous Matterhorn. Rough mountain conditions combined with specific weather (Valais is told to be one of the driest places in
Switzerland) resulted in a need to raise domestic animals tolerant to those factors. Villagers tried to find a way to ensure themselves access to meat and wool. Both these materials were necessary to provide food and clothes, both of which are of significant importance as they enable everyday living in environment which is such unfriendly for many species. This is how people of Valais started to breed sheep that grazes on mountainsides which are difficult to reach for other domestic animals. Today, agriculture is the primary sector of this region's economy.
Extraordinary beauty and unique appearance of Blacknose Sheep consists of their specific colouring: white wool contrasts with their black faces and ears, black patches are also located on particular places of their bodies, such as knees, feet, or hocks. Their cute look is also connected with another characteristics of the wool. Valais Blacknose Sheep have a very fluffy and long wool, what makes these adorable animals look even more sweet. Both males and females have horns, what sometimes makes it hard to recognise rams from ewes. Males are larger and heavier than females. A ram can weigh from 80 to 130 kg, while the weight of a mature ewe varies from 70 to 90 kg. Average female's height is 72-78 cm, males are slightly larger (75-83 cm). Although primarily Valais Blacknose Sheep were bred for their meat, now they are raised for both meat and wool, what makes them very versatile domestic sheep breed. These large animals produce quite good meat. They also provide us with long and rather coarse wool what makes it an excellent material for felting and carpets. Their wool grows about 30 cm a year. Annually you can perform two shearings with a result of even 15 cm. Nowadays you can find flocks of these easily recognisable sheep not only in Switzerland, but also in
Germany and UK. Unfortunately, the population of Blacknose Sheep is not very large, and the flocks are threatened by their old natural enemy, wolf. You can list two main character traits of these animals. They are very friendly and docile. Together with excellent carpet wool, delicious and healthy meat, Valais Blacknose Sheep seem to be perfect domestic animals. Taking into account their cute appearance and friendly character, these sheep can also make quite good pets, of course, when your garden is large enough. In both cases, you may be interested in buying your sheep from a proven source.
When you are searching for Valais Blacknose Sheep for sale in UK, you can find the offers of several farmers who specialize in breeding these sheep and happen to be the owners of a registered flock. But let's assume you want to be a hundred percent sure that the animals you are going to buy are pure blood Blacknose Sheep, they are well-cared-for and, what is more important, they are also healthy. You have to make sure that the breeder you choose provides all that instead of looking for sheep for sale by comparing different breeders on the basis of Valais Blacknose Sheep price. When you are looking for a perfect breeder, you are on the best way to find him. I guess you keep asking yourself this question – where can I buy Valais Blacknose Sheep? The answer is closer than you think. If you are reading this article, the information you want is right here. There are many sources that can give you a clue where to buy Valais Blacknose Sheep. Our suggestion is to look for a proven provider, the one whose competence is undeniable and confirmed by other people who are connected with breeding domestic sheep. We can assume that reliable breeders are associated in Valais Blacknose Sheep Society. The fact that a breeder is the member of this Society gives you a guarantee that he is a professional, knows his job very well and truly loves it. The Society has a list of breed standards that have to be kept when a breeder wants to be a member. This is to ensure a perfect quality of life standards of the animals, what translates to good health and appearance of sheep. When a breeder knows and keeps restrictive guidelines relating to the shape and colour of different parts of a sheep body, starting with nose, eye rims, ears, tails, head, neck, horns, shoulders, back, abdomen, legs, ending with the perfect body weight and other anatomy details, as well as a certain quality of wool, we can be perfectly sure that the animal we are going to buy will be the pure breed Valais Blacknose Sheep.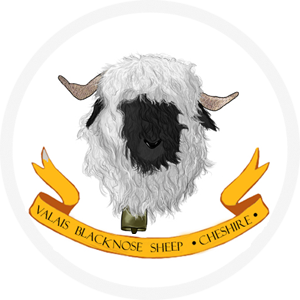 We are member of the UK Valais Blacknose Sheep Society. We are considered to be one of the most successful provider of Pure Breed Poultry and Valais Blacknose Sheep for sale. Our flock is kept in excellent conditions, all of our sheep are perfectly healthy and happy. The sheep are regularly examined by a vet to prevent health disorders and every data considering the flock is collected so you can have a look and find the answers to your questions. Everybody who visit our farm in Cheshire, UK want to take a picture of these black-and-white pedigree. When you see the picture of a cute and fluffy Blacknose Sheep and your dream is to become an owner of such a beauty, don't wait and contact us to check if there is a lamb for sale.